Child cancer warriors play and paint at University of South Alabama Children's and Women's Hospital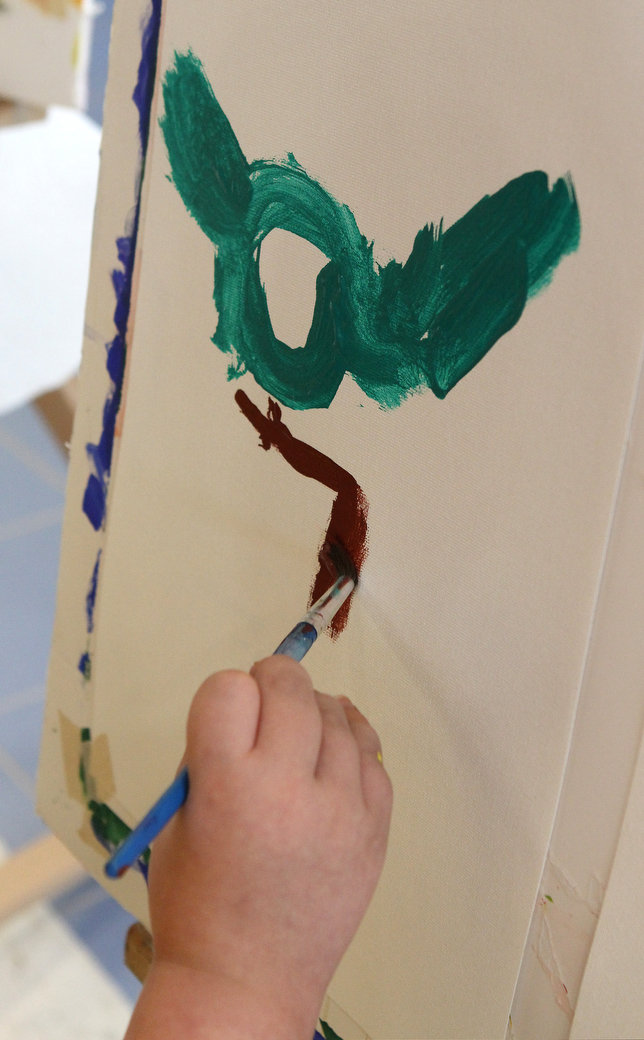 MOBILE, Alabama -- "That's me, I play baseball. There is my trophy, there's my baseball and a climbing tree," 8-year-old AJ Smith exclaimed of his painted masterpiece on Wednesday at the USA Children's and Women's Hospital.
AJ is a survivor of Acute Lymphoblastic Leukemia, and is currently in remission. He participated in a painting seminar with local artist B'Beth Weldon as part of the Gifted Masterpieces program through which Weldon brings art to patients, doctors and caregivers.
AJ's mom Brandy says her son was excited to wield brush to canvas. "It makes me feel good after knowing what he's been through," Smith said. "Him being happy makes me happy, and he loves art."
AJ was one of several children exercising their creativity in the new cafeteria at USACW.
Hospital Administrator Owen Bailey joined in on the fun to try his hand at painting.
"They said I was a chicken if I didn't try," Bailey said. "This event is very special. Anything we can do to see smiles on their faces and witness their creativity is amazing."
The few hours of art do more for the children than make them smile, according to one of their doctors.
"Kids get to be distracted from medication and the hospital life," Dr. Abdul Siddiqui said. "I think this is something we make a difference with."
Siddiqui believes the positive atmosphere and the environment change contributes to their well-being.
"It helps us as physicians. I feel the difference when you let a child get away from their hospital room. I can often see the difference in numbers and it helps with treatment," he said.
September is National Childhood Cancer Awareness Month.
"I don't think it gets as much recognition as it deserves," said Saddiqui.
He says that lack of awareness translates to the local area not being cognizant of what USAWC offers.
"Local pediatricians don't realize that we have a pediatric oncology center right here. We are a member of the Children's Oncology Group."
COG is the largest organization dedicated exclusively to childhood and adolescent cancer research.
Deputy Director of the Mitchell Cancer Institute Margaret Sullivan says the passion for pediatric cancer research at the facility is high, and says events like the afternoon of painting remind them why.
"This is so important to us," Sullivan said.
Some of the paintings will be auctioned at a silent auction taking place on October 26 at Polo on the Point.
Polo on the Point is a large fundraiser for MCI celebrating its 25th anniversary this year. The event takes place at the Sonny Hill-Clearwater Polo Complex in Point Clear, Alabama and begins at 11:30 a.m.
Weldon is the event's featured artist.
"I love children, I love working with children and I love painting," said Weldon.
She started Gifted Masterpieces in 2010 with the intent to help other people, continuing her parent's tradition. "I was raised to do this, it just comes natural," she said.
"Gifted Masterpieces is to help special needs children have a day of play with their doctors, staff and family. It's wonderful to facilitate it," said Weldon.
She says she lives her life by one motto.
"To whom much has been given, much shall be expected," she said. "That's what I teach."
As for the kids, AJ summed up the experience in three words. "This is fun!"